What is Dry Eye Syndrome?
An abnormality caused by changes on the tear film and the ocular surface, which keeps the eye soft and comfortable by moisturizing the eye. Symptoms include overall dryness, burning, grittiness, foreign body sensation, etc. There are increasing number of patients who experience dry eye syndrome due to aging, excessive computer game, use of smartphone, pollution, dry living condition, etc.
Currently developing treatment for dry eye syndrome using Tβ4.
Expecting an effective treatment that can improve the symptoms of dry eye syndrome.(Best-in-class)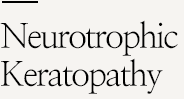 What is neurotrophic keratopathy?
It is a degenerative disease characterized by decreased corneal sensitivity and poor corneal healing. This disorder makes the cornea sensitive to injury and decreases reflex tearing. Moreover, epithelial breakdown can lead to ulceration, infection, melting, and perforation. A typical characteristic of neurotrophic keratopathy is decrease or loss in corneal sensitivity.
Currently developing treatment for neurotrophic keratopathy using Tβ4
Received an orphan drug designation from the US FDA to develop the treatment of Neurotrophic Keratopathy.

Related link

http://www.accessdata.fda.gov/scripts/opdlisting/oopd/detailedIndex.cfm?cfgridkey=416613
Until now, there is no way of fully recovering from this disease, and only symptomatic treatment for relief of symptoms is being done. Developing this drug is expected to give opportunities of treatment to patients who are suffering from this disorder.(First-in-class)